Supperheroes 2012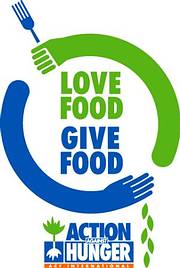 The Campaign
Everyone has a secret identity and superpowers. Some have X-ray vision, become invisible and some can soar high above the skies and fly.
This group are no different: during the week they are lawyers, doctors and bankers. On the weekends they set up pop-up restaurants or supperclubs in their homes, using their superhuman cooking powers to bring delicious food to London mankind. They all have secret weapon dishes: from Singaporean Laksa Noodles, to Mauritian Curry and Italian Meatballs, guaranteed to entertain and delight their hungry masses. And when daybreak comes, the pop-ups disappear and they go back to being "normal".
These are our Supperheroes. From 1st August to 31st October this year they will be using their supernatural culinary skills to take Action Against Hunger. During this time experience their extraordinary talents and vibrant cooking from all around the world whilst contributing towards a great cause. And exchange a few stories on how to handle two identities.
All profits from their supperclubs go to Action Against Hunger's life-saving work. Supper against hunger and be a supperhero too.
All funds raised at Supperheroes events will be doubled!
The UK Government's UKAID programme has agreed to match pound for pound all public donations to the Love Food Give Food appeal made before 30th November 2012. This means that all donations made to Superheroes events will be doubled, so Action Against Hunger can reach twice as many malnourished children and provide them with the support and nutrition they need to grow, learn and develop.
Match funded by

.
Be a Supperhero & Win a Foodie Prize!
Guests who attend at least 3 Supperclubs during the campaign will be entered into a prize draw for a fabulous foodie experience. Stand a chance to win any of these wonderful prizes:
A Delicious Hamper of Unearthed goodies

3-hour Asian Cookery Masterclass for 2 at School of Wok, Covent Garden

"Sausage-Wrangling" Course for 2 at The Butchery Ltd. Learn how to make your own sausages and find out why they taste so good!
More information can be found at the Action Against Hunger - Supperheroes website.